Sponsored by: Country Chevrolet, Howard's Plumbing, Lundeen Brothers, Sand Profile and Truck Mate Toppers
Our Parade
Thursday, July 4th – 10:00am
RAIN OR SHINE, except for lightning threat. We will be monitoring the weather. Check this website for updates.
Annandale will be celebrating its 132nd annual parade.
Parade Organizer: Annandale Chamber of Commerce
Contact: Annandale 4th of July Parade Committee
Email: parade@annandale4thofjuly.org
Check out our Interactive Parade Program
paradecloud.com/annandale
Registration Closed
Parade Unit Price:
Chamber Members: $50
Non-Chamber Members: $150
Deadline to Register: June 15th
*This fee DOES NOT apply to any royalty unit, non-profit organizations, associations, classic car displays, churches or musical/entertainment acts.
People's Choice Float Contest:
The unit contest will be a People's Choice and will include EVERY UNIT. Contest voting will be done on the Online Program.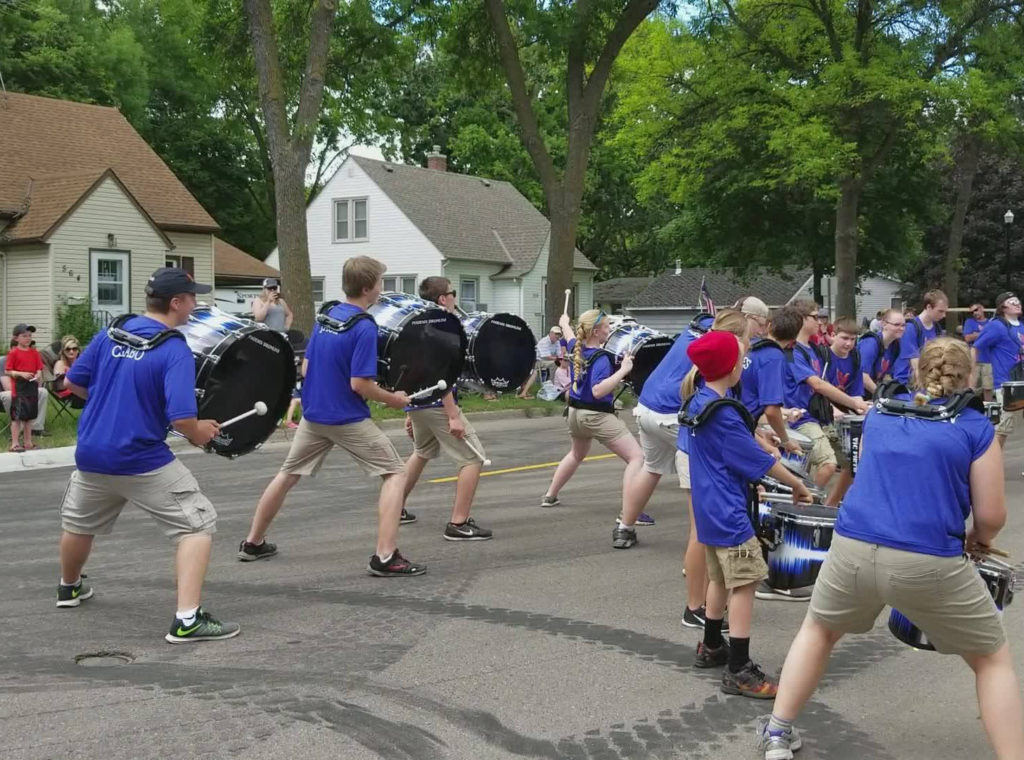 Parade Rules
Candy will be allowed this year. However, it must be handed out at the curb. Throwing candy from vehicles or floats is not allowed.
Parking on the 4th:
The public beach parking lot will close at 5:00p.m.
The North end of Oak Street is closed.
The parking lot west of the ball field (Candlestick & Maple) is handicap parking only.
Line Up Arrival
Recommended line up times are as follows:

Units 0-25, Arrive between 1:00pm and 1:20pm
Units 26-50, Arrive between 1:20pm and 1:40pm
Units 51 on, Arrive between 1:40pm and 2:00pm

Note: Parade starts at 2:00pm. However, you can arrive at 2:00pm if coming from Hemlock east.

IT IS REQUESTED ALL UNITS ARRIVE FROM THE EAST ON COUNTY ROAD 6 / HEMLOCK ST. SINCE SOME CITY STREETS WILL BE CLOSED JUST PRIOR TO THE PARADE.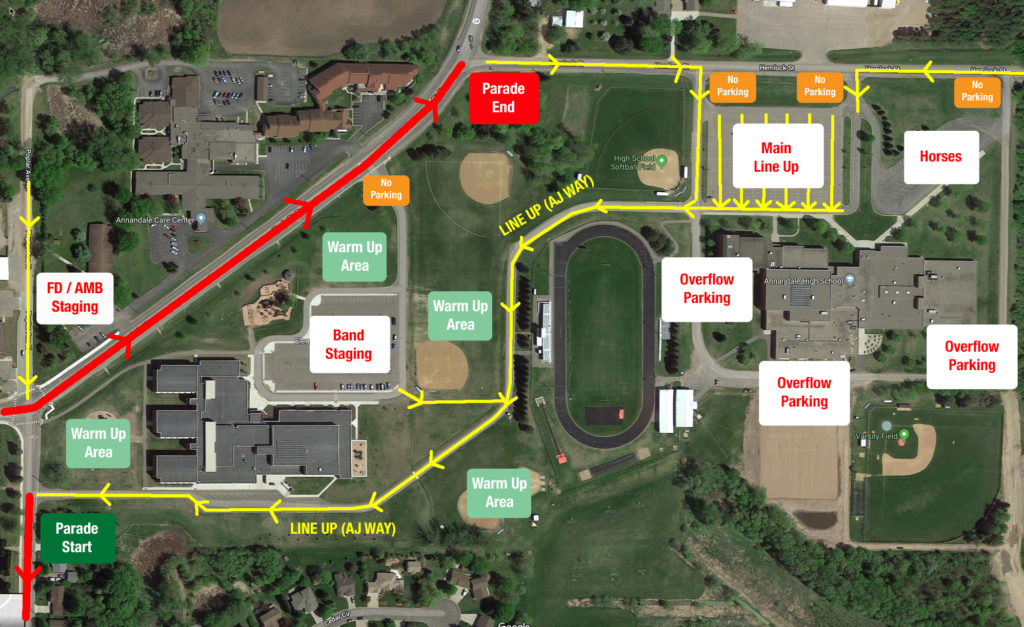 Line Up Staging
Bands park in the elementary school parking lot.

Horses park behind the high school. Water available behind the elementary school.

All other units enter the high-school parking lot.
Parade Route
All city streets on the parade route will be closed and locked down at 1:20pm
The schools will be locked and closed
Interactive Parade Program
Receive a free listing on the Interactive Parade Program
Thousands of spectators will have direct access to your website, social media page, or landing page
Annandale 4th of July – 2021 Registration
Parade Unit Price:
Chamber Members: $50
Non-Chamber Members: $150
Once registered, you will be redirected to our parade payment page.
How to design a parade float
So you've joined a parade in hopes of bringing some attention to your business and to also show some support to your local community, but now you are struggling with how to grab that attention.

Well, the easiest way to know how to decorate your float is to know what idea or image you would like to share with the spectators.

Are you looking to bring brand awareness to the community?
Are you looking to promote a new product or service you are offering?
Maybe you are an established business in your community and you are just there to have fun and show support?

Whatever the case may be, use that as your driving force when decorating your float.

To get you started, here are 10 great tips to think about.

Make sure your logos and business colors are visible from all angles.
Get creative and stand out with streamers, balloons, and signs. This is also a very cost effective way to decorate.
Never just use a company truck. While you will get recognized, you will not stand out or leave a lasting impression on your audience.
Bring in family, friends, and employees to bring up the excitement level. Have them available to hand out promotional items and giveaway items.
Have your team or float participants wear costumes, funny hats, sunglasses, etc to grab attention. Having them wear matching shirts or outfits can also create an opportunity to show how established your brand is and it will grab more collective attention as well.
Amp up your float with music and speakers, or better yet a live band.
Follow the theme of your parade. If it is a 4th of July parade, use stars and stripes to decorate. If it is a holiday parade, use holiday themes for decorating.
Have folks who can walk alongside your float and have them hand out marketing items and candy.
Create an event for after your parade at your establishment where people can come and visit you! Carry signs or coupons promoting the event to hand out to spectators to drive traffic to your business.
If you don't have time to decorate or just aren't that creative, search google for Parade Float Kits that will take care of everything!
The biggest tip we can give you though is to be present, be interactive, and have fun by engaging with your audience on the day of your event.
For more great tips on how to decorate and market your business and float, visit www.paradecloud.com and also Like our Page on Facebook!